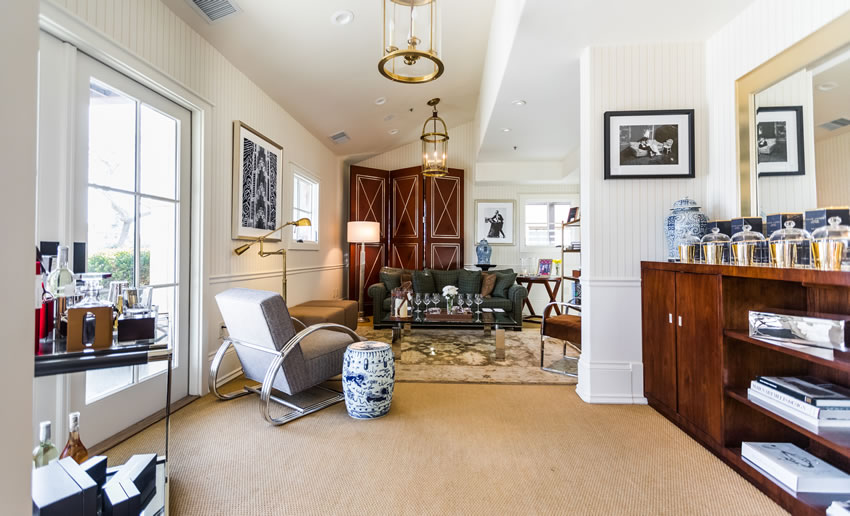 Welcome to our Tasting Home

Everyone knows what a tasting room is. But what's a tasting home?

After many years in the luxury cruise and travel businesses, hospitality is in our DNA. So, when we decided to create a place to welcome guests and share our wines, we wanted to create a new, more welcoming kind of experience.

What we came up with looks and feels like a private home in the heart of the charming town of Yountville. It's intimate and inviting, with a warm and beautifully appointed living room, dining room, library and a spacious loft for private events. There's no tasting bar, no rush, no standing on your feet.

You're greeted with a warm welcome and seated in your own comfortable space, where we guide you through a relaxed and richly layered tasting experience.

And because we've collaborated with our longtime friends at Ralph Lauren Home Collection as well as several renowned artists and galleries, everything you're admiring all around you—from the furniture, fixtures, floor coverings and artwork, to the serving trays and crystal wine goblets—is all available for purchase.

A gracious space where you're always welcome. A place to experience world-class wine and food at your own pace. A designer showroom to inspire you. That's a tasting home.
Plan your visit
Welcome to the Silver Trident Winery Tasting Home, a whole new approach to wine tasting that pairs great wines with world-class home décor.

Select your Tasting Experience
We offer two different and delectable tasting experiences, The Flight of Five and The Potato Chip Extravaganza.

Please call: 707.945.0311 or
Email us: TastingRoom@SilverTridentWinery.com
Reservations are required.

The Silver Trident Winery Tasting Home
6495 Washington Street, Yountville, Ca 94599
We are open daily from 11ish - 5ish.
Closed on Thanksgiving, Christmas Eve, Christmas Day and the occasional private event.
---
Silver Trident 'Flight of Five' Wine Tasting
This classic wine tasting experience showcases our current release wines: Rosé of Pinot Noir (Napa Valley) Sauvignon Blanc (Napa Valley); Pinot Noir (Russian River); Red Blend, Napa Valley (Malbec and Cabernet Sauvignon based); and our Cabernet Sauvignon (Napa Valley).
This experience takes about 45 minutes and the cost is $50 per guest, up to 6 guests

The Potato Chip Extravaganza
What's crunchy, salty, fun and ridiculously delicious? Our brand-new tasting experience: Potato Chip Extravaganza!
Our Potato Chip Extravaganza is unlike any other wine tasting that you may have experienced, featuring five Silver Trident wines, lovingly paired with five different artisanal potato chips. We spent time tasting a lot of very tasty and creative potato chips from small producers around the country to curate a memorable, smile inducing and fantastic tasting experience.
This experience takes about 60 minutes and the cost is $50 per guest, up to 6 guests
Now Featuring 'PUPPY PAIRINGS'

Sorry humans, this tasting experience is for canine guests only! Puppy Pairings is a tasting of four gourmet doggie treats and a take-home Silver Trident-branded water bowl. Alongside their wine tasting humans, canine guests will enjoy a flight of:

1. One banana-cake flavor "puppycake"
2. One "grrr-nola" flavor dog bone-shaped cookie
3. One peanut butter-oat flavor wineglass-shaped cookie
4. A take-home gift: a peanut butter-oat flavor wine bottle-shaped cookie
5. A take-home gift: Silver Trident-branded travel water bowl

PLEASE NOTE: A reservation for the 'Puppy Pairings' experience can easily be made as an 'add-on' experience for either our Potato Chip Extravaganza and/or our Flight of Five experiences. Puppy Pairings can only be enjoyed with a human wine tasting experience.

The Puppy Pairings experience is $20
RESERVE YOUR TASTING EXPERIENCE